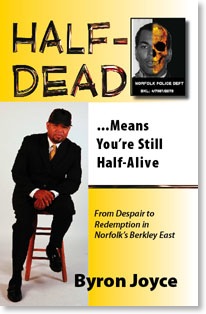 Byron Joyce used to be half-dead. Now reborn as a youth development specialist and inspirational speaker, Byron empowers young people at risk to build happy, productive lives. HALF-DEAD, with its personal messages of advice and affirmation, is an inspirational story and an exciting and occasionally hilarious read.
Praise for
Half-Dead
:

Byron Joyce's story illustrates the best traits of humankind—faith, fortitude, and the desire to help others who believe they have no hope left.
Byron Joyce has supplied us with workable, practical, and obtainable solutions to see change occur in America's toughest urban communities.
Byron Joyce places before us two inexorable choices, clear as crystal, with sensitivity. He deals with his yesterday, today, and tomorrow as he feeds us through these pages with ultimate significance.
ISBN 978-0-9761553-3-1
Buy with a credit card or Paypal account
Mr. Byron C. Joyce is an experienced and acclaimed motivational speaker. To arrange an appearance, please email Byron


Visit Byron's Website at www.byronjoyce.com