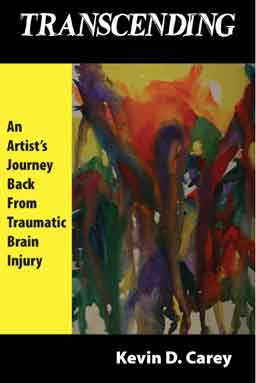 On March 7, 2001, Kevin Carey was nearly killed in an automobile accident. He was in a coma for two months, and he suffered broken ribs, a collapsed lung, staples in his head and knee, paralyzed vocal folds, and traumatic brain injury.
During his recovery he examined his life and decided to pursue art. But severe spasms in his dominant right arm made drawing and painting nearly impossible. He practiced drawing with his left hand twelve to fifteen hours a day. He taught himself to write, draw, paint and sculpt with his left arm.
Transcending: An Artist's Journey Back From Traumatic Brain Injury
includes art activities designed for individuals experiencing health issues as well as a list of resources for artmaking and health.
WHAT PEOPLE ARE SAYING ABOUT
TRANSCENDING
"Over the past 40 years, I have witnessed the positive impact of expressive art making on the lives of people with traumatic brain injury. Art is the thread that runs throughout the fabric of Kevin Carey's life, appearing in the appealing drawings and paintings of his childhood; in the early, tentative sketches done with his right hand following his accident; and the expressive, confident body of work he is now producing with his left hand. It reflects his struggles and triumphs and helps him open the door to a new life. Kevin's story provides a powerful example of art's unique ability to help weave the pieces of a shattered life back together."
—Mickie McGraw, MA, ATR-BC
Education Coordinator/Art Therapist
Center for Therapy through the Arts/Art Studio, Cleveland, OH
"Powerful, filled with passion and well written. Many people would benefit from reading his story....I came away from reading his book filled with smiles."
—Maureen Del Giacco, Ph.D., LCAT,CDATA, CCT,
developer of Neuro-Art Therapy and author of Lost Inside My Brain
"Kevin does not represent all people who have experienced brain injuries but he provides an excellent example. His efforts and successes show that art can be a healing force in the face of traumatic change and that a new professional identity can offer a renewed sense of purpose and the potential for a satisfying life."
—Barbara Parker-Bell, ATR-BC, LPC
Director, Graduate Art Therapy Program, Marywood University.
"I believe Kevin Carey is an inspiration to any child or adult who may not have experienced trauma, but might just be having a bad day or facing adversity. He is an excellent role model and a humanitarian with enormous fortitude."
—Dr. Loree Guthrie, Assistant Superintendent,
Pocono Mountain School District
With eight pages of color photos and art activities designed for those coping with health issues, plus an arts and art therapy resource list
ISBN 978-0-9761553-0-0
Buy with your credit card or Paypal account