Inspiration with Explanation
isn't about empty, feel-good, daily inspirations—it's a practical, commonsense guide to right living.

Inspiration with Explanation is a bringing
together of the best parts of cognitive behavioral therapy, Greek philosophy, and Twelve Step programs, perfectly blended together by Jeff Brown, in an attempt to help people recreate their lives.

Jeff explains the solid reasoning behind his daily goals, and his message of productive thinking grounded in faith will inspire you on your journey to happiness and fulfillment.
These writings are based in principle...and principles are infallible. These methods are tried and true! I have experienced them myself, and I have witnessed many, many others put them into practice as well. None of us practice them perfectly, but when we do in fact practice them, they work perfectly!

Follow him on
Facebook
.


ISBN 978-1936936106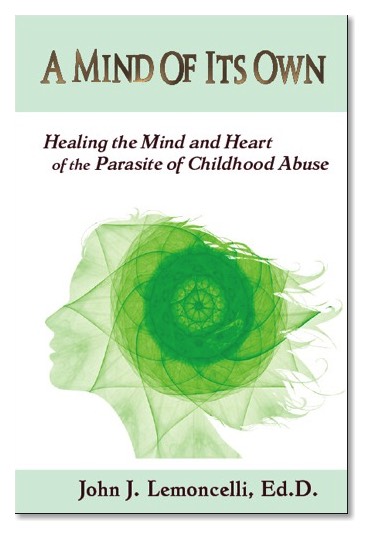 A BOLD APPROACH TO HEALING...

Dr. John Lemoncelli looks to biology to create a metaphor to help victims of child abuse understand its lingering effects: A Parasite has entered into your system as contaminated love. If it has its way, it will invade your psyche—your soul—and consume its host. But you need not give this Parasite one more day of your life. You are not damaged; you are not a bad person. You have an illness from which you begin recovering today.


Praise for A MIND OF ITS OWN: HEALING THE MIND AND HEART OF THE PARASITE OF CHILDHOOD ABUSE

"A powerful, insightful, and informative journey into the world of trauma and abuse. This book will enale the victims of trauma to free themselves from the tentacles of shame and guilt. Dr. Lemoncelli's work will be acclaimed as a masterpiece, because it it skillfully written, well-researched, stunningly presented, and effectively communicated. I was especially impressed, with real-life stories, a unique style of expression, and empowering messages, as well as the consistent theme of recovery, hope, and encouragement."
—Carmen F. Ambrosino, CEO, Wyoming Valley Alcohol and Drug Services, Inc.

"Writing with compassion and authenticity, Dr. John Lemoncelli seeks to validate the suffering of those damaged by a past of childhood abuse, and to challenge them to reconstruct a more positive future. Dr. Lemoncelli covers common questions—Do I confront my abuser? Should I forgive?—and he addresses issues such as self-destructive behaviors, self-hatred, and self-blame. I recommend this useful book both to those who have endured childhood abuse and to those who treat victims and survivors."
—Samuel Knapp, Ed.D., Director of Professional Affairs, Pennsylvania Psychological Association

John Lemoncelli is Emeritus Professor of the Psychology and Counseling Department of Marywood University, Scranton, PA. He specializes in the treatment of adult survivors of abuse, clinical practice training, spirituality and psychotherapy and ethics education. He is PA licensed as a Psychologist and Professional Counselor,.

978-0-9761553-4-8



Buy it on Amazon